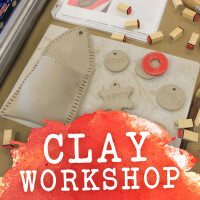 Your $35 RSVP secures your spot for this event and pays for 1 lb of clay.

You may purchase more clay during the workshop if desired.

During this class, we will be constructing ornaments, gnomes or what ever you want,

using clay. With a variety of choices to choose from, you wont be limited to what others

want to do. An experienced artist will walk you through the process from start to finish.

The clay will dry in our studio for about a week then it gets fired and you will be notified

when to come back and glaze your creation when convenient for you then we will fire it

again. Or you can paint the fired clay with acrylics and take it home the same day. We

look forward to seeing you:)

One pond of clay makes about five ornaments, one or two gnomes, depending on the

size. If you have a favorite cookie cutter shape, feel free to bring it with you. We have

over 30 unique shapes.
$35.00

plus tax
Thu, Dec 28, 2023
2 - 5 PM
Seats Available: 32